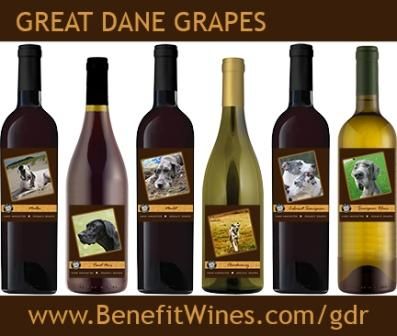 Enjoy a glass of wine while supporting Great Dane Rescue Inc. We have selection of fine wines available and the proceeds from sales will benefit GDRI:
The Benefit Wines offered - Cabernet Sauvignon, Merlot, Pinot Noir, Chardonnay, Malbec and Sauvignon Blanc are imported from LaFortuna Vineyards in Lontue Valley, Chile.
Cabernet Sauvignon
Rich and ripe, this organic cabernet features ripe berry aromas and an intensely fruity character. Smooth and well structured, it has soft velvety tannins on the finish. Well paired with lasagna, beef or spicy foods.
Chardonnay
Lovely straw yellow hues are laced with beautiful golden and greenish reflections this unoaked chardonnay shows lively flavors and aromas of apricots, apples and tropical fruits. Crisp, medium bodied and well balanced; it pairs well with salads, pasta, fish, seafood and chicken.
Merlot
This estate grown, organic, handcrafted merlot shows a deep red color with aromas of black pepper and ripe red fruit. Soft and well balanced this merlot displays all the characteristics of the varietal. The velvety and spicy finish matches perfectly with turkey, grilled meats, pasta and pizza.
Pinot Noir
An elegant red organic wine displaying the typical varietal aromas of Pinot Noir with layers of ripe red fruit flavors. It's soft and fresh on the palate with a long lingering finish; delicious when served with roast chicken or seafood.
Sauvignon Blanc
A crisp, mouth-watering organic Sauvignon Blanc with refreshing tropical and citrus fruit flavors and a clean well balanced finish. Delicious when served as an aperitif or with creamy pasta or grilled fish.
Malbec
A medium bodied and soft Malbec will delight with plums, leather and chocolate overtones. With well-balanced acidity it provides a juicy and easy drinking red wine.
To order a bottle (or several) of Great Dane Grapes, please go to www.BenefitWines.com/gdr