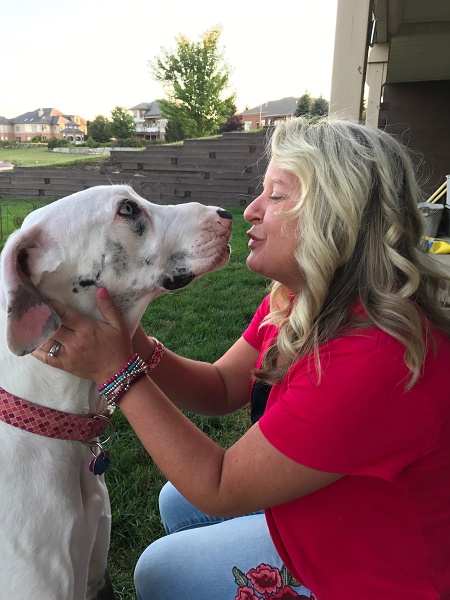 Lee Ann & Cosette
Great Dane Rescue has changed my life for the better! We first discovered Great Dane Rescue in 2012. We had went through a particularly difficult year with losing three dogs and two cats and our hearts were certainly broken. We had a sweet boy, Bennigan (an Old English Mastiff), that desperately needed a brother or sister. Knowing that size mattered when picking our new baby, my husband found a Top 10 List posted by the AMAZING foster family of Olivia, a beautiful Great Dane. He showed me the list and her picture one Saturday morning and as soon as I read it I filled out and submitted the application online before he even knew it. This sweet girl changed my life forever. With Great Dane Rescue, I have honestly met some of the most amazing people I have ever known. I really feel like I have an extended family with some of these precious folks and I am blessed beyond words. The adoption process was wonderful, I am amazed at how transports come together. Olivia was one of my "soul" dogs. Chances are if you are reading this, you know exactly what I mean. Sadly, our sweet babies cannot live forever and we lost our sweet girl and another piece of our hearts this year (April 2017).
It's a Dane thing so we found out quickly that once you are owned by a Dane:
1. You can't have just one.
2 You must always have (at least) one.
So, rewind to the summer of 2016, we received communication about a sweet puppy being available for adoption. Craig was on a plane and couldn't be reached, and knowing I had to act quickly (and how sometimes it is easier to ask for forgiveness than permission) I expressed our interest. After a couple of "no's", he agreed to meet "Centi". I knew that was all it would take. Again, we had the pleasure of meeting another AMAZING foster family - and, of course, we adopted her! I have always wanted a daughter named Cosette, so since she is deaf and knew her name as the sign language symbol "C", she became Cosette (Cozi). We continue to learn new things every day and every day as I look into her big blue eyes I am reminded of the incredible love and indescribable bond we have with this beautiful creation of God.
Bennigan is older now and doesn't quite have the energy to match his baby sister but he is quite tolerant of her wild and crazy ways. Ben and I are on a mission to adopt another Dane that will match Cozi's energy level so he can just lay down and enjoy watching them play.
I love this organization and the folks with GDRI. I am forever thankful for the wonderful mission they serve and I am so blessed to be a part of it.
~ Lee Ann Walker