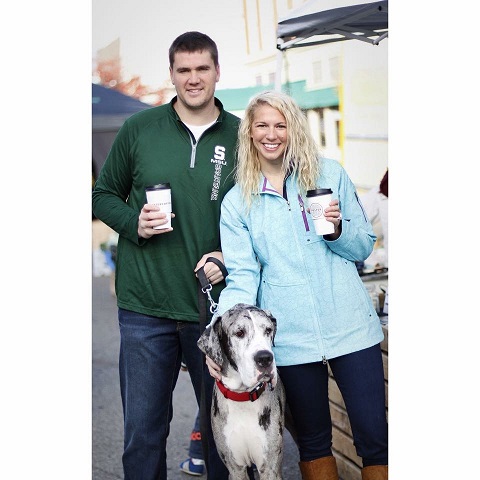 Jimmy, Jillian & Cooper
We thought that you might like to get to know us. There are a host of volunteers who selflessly dedicate their time and energy to Great Dane Rescue Inc.
Some of our volunteers home foster our Danes, others help transport our Danes to their forever homes and others perform home visits and help out at fundraising events. We have volunteers that match our Danes to their perfect forever home and others that help out with behaviour issues. Volunteers come from all walks of life but what they all have in common is a love for Great Danes.
***
This month we're featuring Jillian Woodworth.
***
How long have you volunteered with GDRI?
We became foster parents in June of 2015.
What are your roles in GDRI (past & present)?
We are currently foster parents. We have also helped with some revisions/updates to the GDRI Manual and have helped with a couple home checks in the Detroit area.
What do you consider your greatest accomplishment as a GDRI volunteer?
One of our first foster pups, Cooper, had a fibrocartilagenous embolism (FCE) which is a stroke-like even within the spinal cord while he was in our foster care. We spent a lot of time rehabilitating Cooper, exercising his affected limb to get his strength back, and providing him with compensatory techniques through his injury so he could still get around. In spite of all the rehab, wound care, and restrictions we had to put on Cooper, he was a trooper through it all and continues to be his sweet playful self with just a small hint of hind leg instability to this day.
Why did you decide to volunteer with GDRI?
We have always loved the Great Dane breed! Each Dane we have had has been so unique in their mannerisms, temperaments, and sweet silly behaviors--we've loved every single one of them. In learning more about this breed we found that they are surrendered all too frequently because in many cases owners do not do their homework and their lifestyles are not compatible with such a large dog. We wanted to help these dogs that have been surrendered and provide them with the loving home they deserve. Being a foster parent was the best way to reach as many of them as possible.
What is the hardest part of volunteering?
So much is given to a foster dog once they are in your care. You give them all the love, attention, obedience-training, socialization, etc. that they may have been missing out on. When you are done fostering a dog after they have been in your home for a while and they have bonded with you and your family difficult feelings of letting go, and thoughts that no one will love this dog as much as you have pop into your brain. However, I always remind myself that the world is full of love and their is an abundance of homes that will love this dog and provide the perfect home for them...And we have to make room for the next dog that needs our help.
What was the most unexpected part of volunteering?
Each Great Dane that has come into our care has been its own unique challenge and learning experience. The group of volunteers at Great Dane Rescue Inc. are all so supportive and has made fostering as easy as possible, even when the dog has been challenging. I feel very honored to be part of such a wonderful group at GDRI and never expected to have the resources, support, and encouragement we have received in volunteering for this organization.
What do you do outside of your rescue work?
I am a pediatric occupational therapist who works with children with physical impairments, developmental delays, sensory challenges, and behavioral concerns. I also teach part time as a professor in an occupational therapy program locally.
What's one little-known fact about you?
Last year I received my Doctorate in Occupational Therapy completing research in occupational therapy's role with young adults with autism.