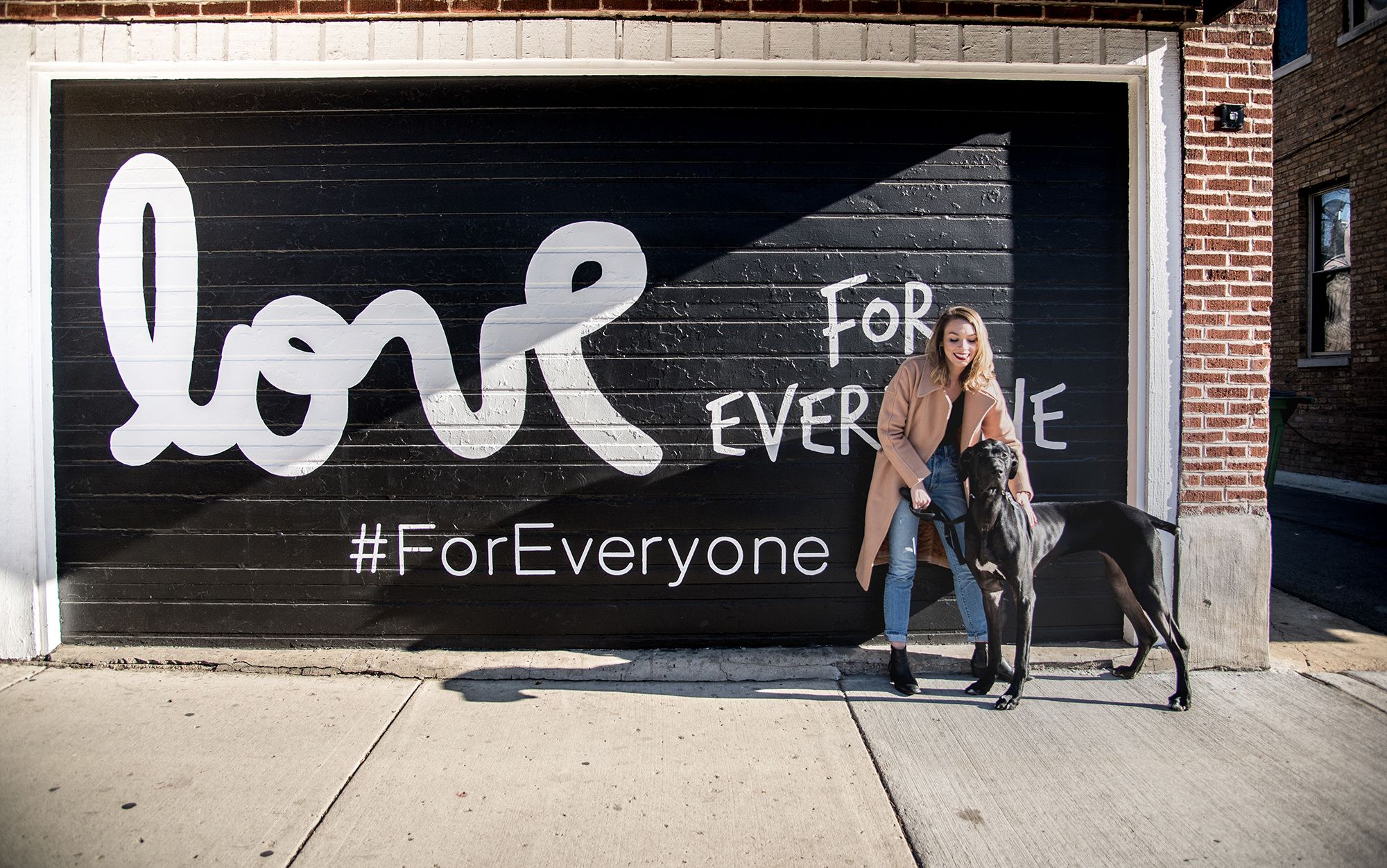 I adopted Lola through Great Dane Rescue Inc. in early November of 2017. As my first Great Dane, there was a lot of learning in the first couple of weeks. The intimidating size, infamous "zoomies" and her general busy nature were overwhelming, to say the least. It doesn't help that she also had a jumbo-size, makeshift cone on her head due to a necessary tail amputation-making her presence in my average-sized Chicago apartment all the more ominous.
But she was equally overwhelmed by everything. She was greatly missing her Foster Mom, the wonderful Jennie in Nashville. She was somewhere between 1-2 years old, having spent the first part of her life in a seemingly sketchy breeder situation. She had babies. She had been bounced around 1-2 more times before landing in the wonderful hands of GDRI and then mine. Lola had experienced so much change in such a short amount of time, and it showed.
She was used to having four-legged friends to play with and keep the loneliness blues at bay. She went from rural Indiana to suburban Tennessee to semi-bustling Chicago. I knew rescuing was going to be a process, that she would be worth it and I would survive (although approximately 10 pairs of shoes did not) but the journey was no peanut-butter cake walk. So, it wasn't long, approximately two days after I brought her home actually, before we had her first episode with separation anxiety. Potty messes on the floor. Destroyed possessions (both mine and hers). A couch cushion butchered a la Jack the Ripper. I had been gone for 45 minutes. I had a dog with separation anxiety prior, so I knew all the signs. I chalked it up to it being our first week, that she was scared and anxious and sad and that we'd keep working on it. Then one month passed. Two months. Three months. No improvement. I was a single person living in Chicago, and I couldn't leave my house. I brought in dog behavior coaches. We purchased not one but two crates (destroyed beyond belief). I called countless trainers. I signed her up for daycare for the days I worked. I hired babysitters. I tried Kongs. Games. Classical piano playlists. TV. Nothing seemed to help.
I was chained to my home, now also lonely, depressed and anxious, during a pretty brutal Chicago winter. It wasn't a pretty sight.
It breaks my heart to think of this now, but after one particularly disconcerting phone call with a dog trainer, I contacted GDRI about relinquishing her back to the rescue. I was convinced we weren't the right fit, that the city was too much for my country girl, and that she would be better off somewhere else. I cried. A lot. Days passed. I was informed that they were looking for a foster home, and they'd be in touch. I cried some more.
The next day, I woke up with this sinking feeling that none of it was right. If I gave her up, I would be doing to her what she feared most and instigated the sole root of her separation anxiety-leaving and never coming back. So, I bought a Thundershirt, booked an appointment with my vet and emailed GDRI to say that I wasn't giving up yet and that I'd keep in touch with her progress.
Fast forward to today, Lola has been on Prozac for about three months. She's officially off the case-by-case Xanax and she's nearly cured of her separation anxiety. I say nearly because she can still get up to no good occasionally-but what dog doesn't. I've left her for up to 5 hours without so much as an overturned garbage can. Mostly, it's a relief for me because she finally knows I will come home. No more abandonment, no more owners, no more heartbreak. She's stuck with me whether she likes it or not.
GDRI went above and beyond to make that happen. Lyndsey recommended trying a mood stabilizer. Jennie was there to offer tips and suggestions (the gentle leader literally saved my life). I posted to the Facebook page and was flooded with incredibly helpful feedback from fellow Great Dane owners. I am so grateful for the amount of time and effort everyone in this little community has donated to help her and me on this crazy journey.
As I write this, Lola is laying at my feet on my deck. It's a comfortable 80 degrees in Chicago, and she's softly snoring as she tans herself in the sun with the occasional audible flatulence that will always make me laugh. She is my best friend, easily the best dog I've ever owned and my love for her grows with every passing day. She's sweet, affectionate, loyal and immensely lovable. I can't imagine life without her.
- Amanda Murphy