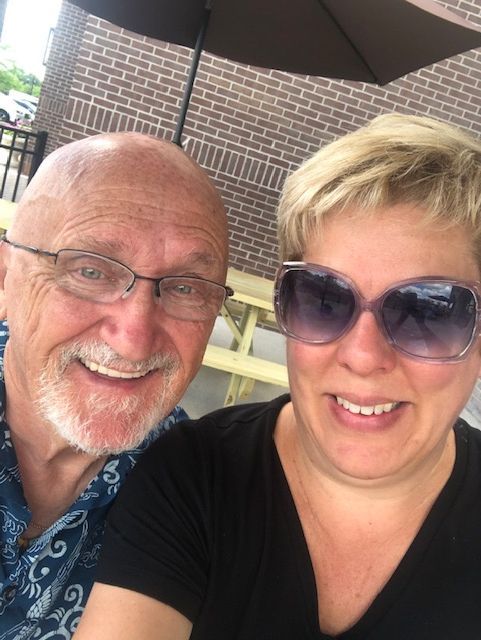 Dave raised two great Danes before he met me!  We then ended up having Rocky together for 10 years-(brindle) and we just adored him. We also adopted a Greyhound from the track-(Honeybee) and Rocky and Honeybee were an amazing pair.  Prior to having these two dogs; we were a foster family for the Delaware County Humane Society, and fostered several dogs.  We had one that had a chain embedded in his neck prior to us getting him and had a lot of medical complications.  He was the BEST DOG-(Forest was his name) and Dave's son ended up adopting him and he lived a great life.   Then we decided to have smaller breeds and had 2 mini pins for quite some time.  We still have Ruby-(mini pin, 10 years old, blind, and diabetic but does GREAT!).
We were also foster homes to many children over the years.  Many of these kids were in emergency situations so we had some of them for short periods of time, and also did respite care for many foster kids to help other foster parents.  We had 12 children total over a number of years come and go through our home.  Many of these kids just  went back to problem homes and problem parents which was so difficult for us!!!  Our former foster daughter, Amber, is still in touch with us. 
Dave became interested in fostering, home checks, and transportation when he retired because he has always loved Great Danes, and wanted to do something to contribute!  I was easily convinced as I loved the fact of helping a Great Dane in need.  We just fell in love with both Great Danes we have fostered, and knowing they are in great matched homes just makes us so happy! It warms our heart that as the foster home, you are a big part of the matching process and we were able to really understand where the dogs were going to go and the matches were just SUPERB!
The GDRI has been AWESOME, SUPPORTIVE, AND has helped us with any questions!!!  You folks immediately got us a crate and other necessary items!  Everyone has been so helpful with going through the adoption paperwork, and helping us with medical questions and some suggestions about some behaviors.   I remember calling you Cindy about what to do with Tank, and you were so helpful.
We hope we get to foster again soon-(it's getting a little lonely over here at the Cherry household)!!
Kristin and Dave