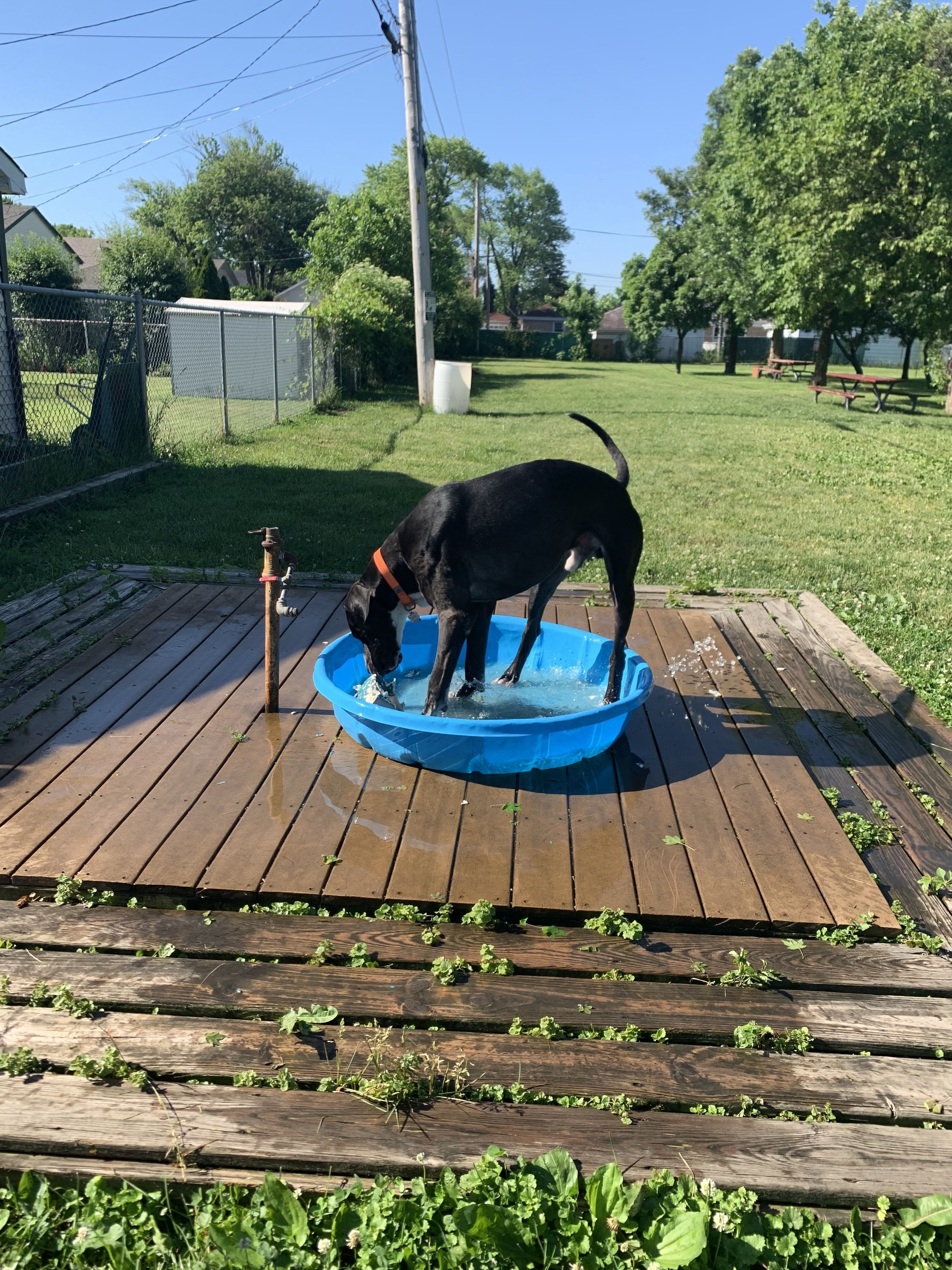 Our First Foster Adventure with GDRI & Loki
I guess our foster story really begins with a little girl Dane named Pepper who came to us 10 years ago from GDRI. She quickly became known to us a Pearl. She was 4 months old and we fell in love instantly. She was a beautiful but fierce, protective-of-mom kind of girl who we lost tragically in an accident earlier this spring. The reason I mention Pearl is because I could not make sense of her loss until we met our foster Loki. You see, Pearl would have never tolerated a foster (jealousy!), but clearly the universe decided to make room in our lives for one. We knew we could give another Dane the love, care and security they would need – even if we were just a pitstop – on the way to their forever home.
Cindy reminded/confirmed with us that we could absolutely not adopt our first foster (at least 10X). J Knowing the rules, we got the chance to pick up Loki pretty quickly after being approved as fosters. Loki, Mr. Loki, Loki Lou, Buster and Lovable Loki were all pet names that we had for a young dog who had had his world turned upside down by being abandoned by his owners and ending up at a shelter.
For the first month Loki didn't really wag his tail and his eyes were heartbreakingly sad. He had major skin problems and his coat and tummy were a mess. Loki was a very sensitive dog who wouldn't let you know it from his looks. He was struggling – confused and sad – and he needed training, patience and confidence building to help him cope with strange surroundings, new people, new dogs and everything that comes with a different life.
Thankfully we had amazing support as first time fosters – including through behaviorist Delores Carter – who was so helpful in getting us to understand Loki's behavior so that his training worked for him and not against us.
After many months, you could tell that Loki had finally begun to exhale and truly trust that every day he was going to be cuddled, cared for, played with, well fed and nurtured. His coat was shiny and his eyes sparkled with joy. He loved adventures and wanted only to please us.
It took quite awhile for Loki to find his forever family, but when his adopters finally came along and spoke of patience, redemption and time to spare, we knew Loki had hit the jackpot! I was grateful to have Lindsey and Tanya to help with coordinating and preparing us for a smooth adoption day and I can't imagine a better one.
We spent our final week with Loki by snuggling more, spoiling him more and telling him he was the best handsome boy…and of course cherishing every walk and tail wag.
I cannot say enough good things about the foster experience. I believe we truly got more from Loki than he got from us. His new mom says that a piece of our hearts is within Loki. That beautiful sentiment is so true and why we're already looking forward to helping another amazing creature like Loki find their way home, again.
Amy & Bryant